Effectiveness of CBD in Pain Management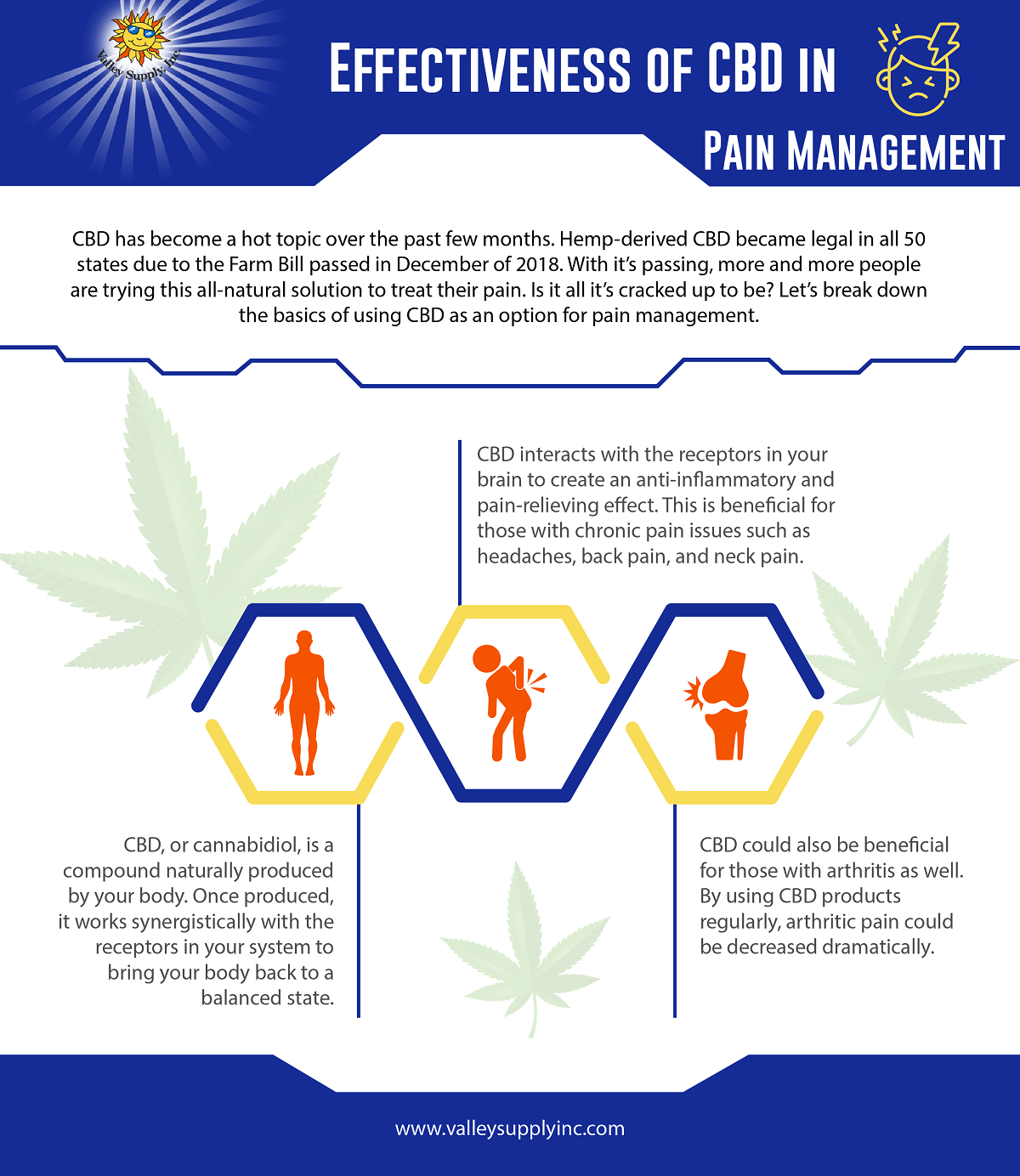 CBD has become a hot topic over the past few months. Hemp-derived CBD became legal in all 50 states due to the Farm Bill passed in December of 2018. With it's passing, more and more people are trying this all-natural solution to treat their pain. Is it all it's cracked up to be? Let's break down the basics of using CBD as an option for pain management.
CBD, or cannabidiol, is a compound naturally produced by your body. Once produced, it works synergistically with the receptors in your system to bring your body back to a balanced state. Taking CBD oil gives your body a therapeutic dose of this valuable compound, boosting those receptors even more.
When used to treat pain, CBD interacts with the receptors in your brain to create an anti-inflammatory and pain-relieving effect. This is beneficial for those with chronic pain issues such as headaches, back pain, and neck pain.
CBD could also be beneficial for those with arthritis as well. Because of its anti-inflammatory properties, those who experience pain in their joints and muscles could see relief, whether by tincture or cream. By using CBD products regularly, arthritic pain could be decreased dramatically.
Whether the pain is centralized, chronic, or intermittent, CBD holds promising potential in the field of pain management. While dosing varies from person to person, finding a quality brand is important. A high-quality CBD product will deliver the best results.
Valley Supply, Inc. is dedicated to providing pain-relieving CBD products right to your door. Offered at wholesale prices, we have a variety of gummies, capsules, freeze gel, and oils available. THC-free and third-party tested for quality and purity, there's no better place to shop for your CBD needs. Since 1981, we've provided top-notch products proven to work. Whether you purchase one of our hemp-derived gummies or one of our novelty accessories, we back each item with a 100% satisfaction guarantee. Find out what sets Valley Supply, Inc. apart from the rest by visiting www.valleysupplyinc.com/about.